I am completely ready for this New Year's Juicing Challenge to be over. I've been sailing along for the past three weeks, but this last week has been a bear. I went from exercising 4 days last week to not exercising at all this week and having headaches. I think my body is telling me that it's time to be finished. Plus, I believe I've made every possible veggie/fruit juice combination imaginable, and quite frankly, I'm bored. I'm ready for food!
This is Day 28 of 30, and I do intend to finish, but I also intend to keep with my original guidelines. The most important guideline is to listen to my body. Right now I need more fuel. This week I started blending a banana into my morning fruit juice and a half avocado into my green juice, and that seems to be helping my energy level. I also foresee a raw blended soup in my immediate future instead of juicing the ingredients.
Enough about me. It's Raw Foods Thursdays, and I would like to sink my teeth into every submission from last week. Please indulge me while I highlight a few submissions that crunch.
Imagine crunchy raw noodles drizzled in a mouthwatering sauce.
Green Mango Sauce over Raw Veggie Noodles by Mini of Quick'n'Healthy
Grabbing a handful of granola, not just any granola, but chocolate granola.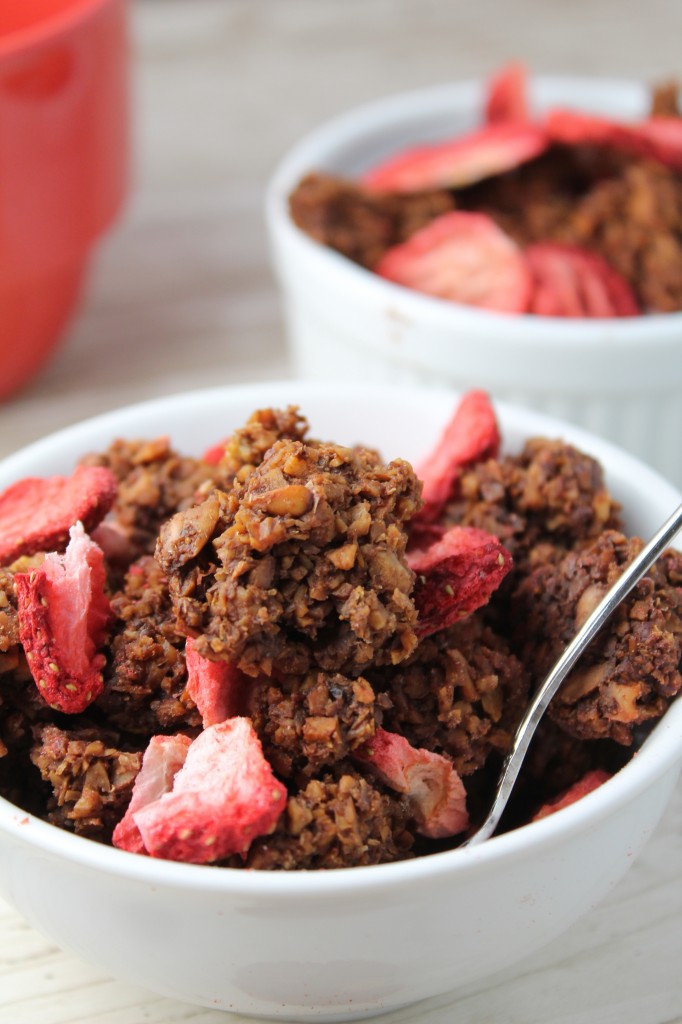 Paleo Dark Chocolate Granola with Berries by Tessa the Domestic Diva
Munching on peanut butter crackers with a unique twist.
Peanut Butter Carrot Crackers by Sandy of Vegans Eat Yummy Food Too
Noshing on these gorgeous spring rolls.
Fresh Cabbage and Herb Spring Rolls by Amber of The Tasty Alternative
With these creations to look forward to, the next three days are going to be long ones… See you on the other side!
Here's how you can participate:
Simply link up a raw foods recipe (see What is Raw Food?), mention Raw Foods Thursdays, and link back to this post so your readers can join in the fun!
Please link to the recipe, not to a blog's home page, so we can all find your raw foods recipe.
You may link up a recipe that you've made in the past. Just make sure to share something different each time you participate.
Be sure to leave a comment letting us know who you are and what you're sharing.
Feel free to use the Raw Foods Thursdays blog badge created by the lovely, talented Heather Peters!
Sharing the Raw Love:
All raw submissions will be pinned on the Raw Foods Thursdays Board.
All raw submissions will be shared on Facebook.
Feel free to share this event in your social media communities as well!
What are Raw Foods Meals?
Plant-based meals that are not cooked.  Dehydrators may be used.  (The raw foods community has differing views on temperature, but the range is between 104 and 118 degrees.) Feel free to link up recipes that use a slightly higher temperature as long as they could be made at 118 with a longer dry time.
Raw Ingredients: vegetables, fruit, dried fruit, nuts, seeds, gluten-free sprouted grains, beans, and oils.
What isn't raw?
Anything cooked or heated above 118.
Anything processed.  If it comes from a can or a package that lists more than one ingredient, chances are it's not raw!
If your recipe contains an ingredient like maple syrup that makes your submission "almost raw", please share it anyway. Raw sweeteners are easy to substitute.
I'm sharing my Lucuma Almond Milk. What do you have to link up?